Rucha's debut novel Dance of the Fireflies, based on the lives of India's street children received critical acclaim.
Dance of the Fireflies is a heartrending novel set in India. In a quest to fulfill his dream, Chotu, a seven year old boy, leaves his remote village in south India for a life in the city. The novel brings to life the indomitable spirit of human endurance, hope and desire — a story that is evocative of the noteworthy moments in most people's lives.

"A fast-paced novel that keeps the readers intrigued by the everyday story of the street children that we come across on the roads of India day after day. The childhood, adolescence and the youth of two characters are packed into this book." The Hindu

"A touching narrative about the life of street children." The Economic Times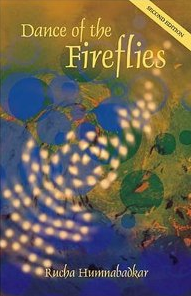 In addition, Rucha has written, acted & directed in publicly staged English language plays in India, for which she won the Young Achievers Award for contribution to theatre by English daily Mid-Day, Pune, India.